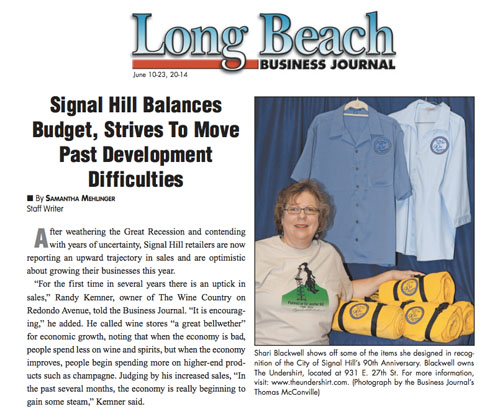 ---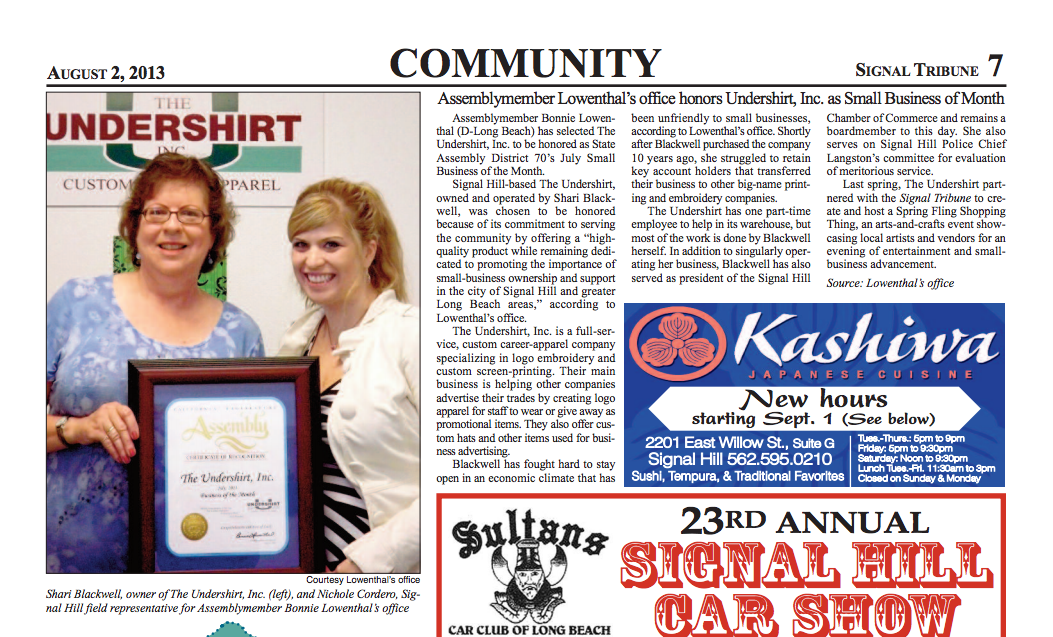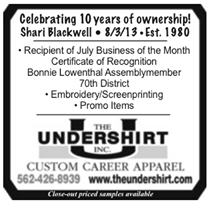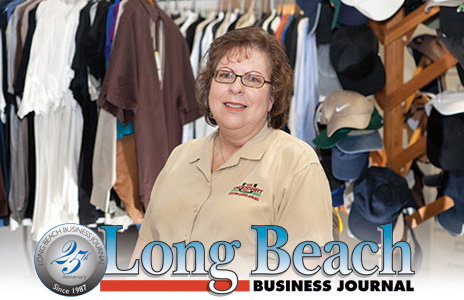 Local Women Small Business Owners
Articles by Business Journal Senior Writer Tiffany Rider;
Photographs by the Business Journal's Thomas McConville
After nearly three decades in outside sales, Shari Blackwell sought the satisfaction of having her own business. In 2003, Blackwell made that dream a reality by purchasing The Undershirt.
The Undershirt is a 32-year-old business founded by two women in Belmont Shore. The company was more of a retail operation printer in the shore, and then moved to Signal Hill to get involved in business-to-business wholesale printing.
Blackwell had worked in sales for steamship, metals, employment and other industries. About 10 years ago she looked at her husband, who was self-employed at the time, and was inspired to purchase and operate her own business.
"We started to look around to buy a small business," Blackwell said. "I wasn't specifically looking for this business, but [one of the owners], Joan, was getting ready to retire." Blackwell bought the business and has since marketed it for the restaurant trade. Her focus is working with clients to develop a look for their restaurant, researching style and product that work well in whatever environment the venue offers.
In addition to restaurateurs, Blackwell works with plumbers, contractors, landscaping companies and more. The Undershirt also does logo embroidery and sells promotional items like blankets, tote bags, duffels and backpacks.
Click here to read the full article.

By Sean Belk - Staff Writer
How's Business?
Signal Hill is also home to a variety of independently operated, specialized services that provide anything from office supplies and furniture to light industrial printing. Shari Blackwell, owner of The Undershirt, providing embroidery and screen-printing for private clients, businesses and operators in various industries, said business in the last eight months has "leveled off" since the rollercoaster days of the last three years. But she said orders remain smaller. "I have a lot of new customers, but everyone is ordering very cautiously," Blackwell said.
Click here to read the full article.
---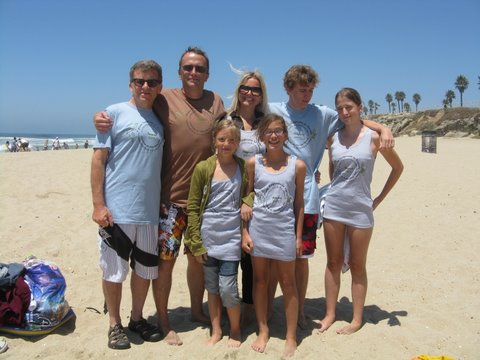 Dear Shari,
I hope all is well with you! We've been home from Croatia for almost three weeks and  today I find the time to finally organize some photos.  I wanted to share some images of happy relatives wearing our reunion tee shirts.  Everyone loved them! Thank you for helping me pull this all together so quickly before I left on vacation. This was a really great reunion and the shirts just make it that much more special.
-Gordana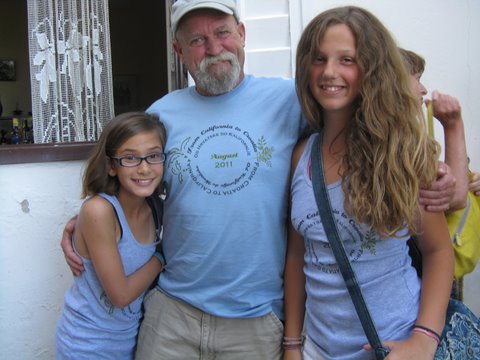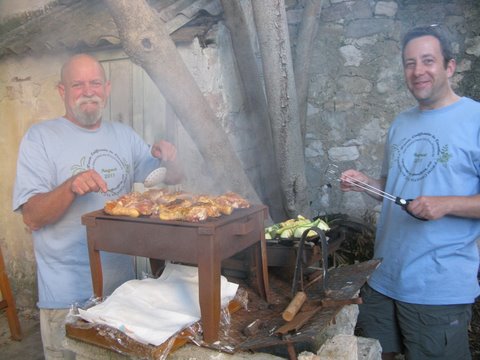 Organic products are good for eating– and wearing
Shari Blackwell Owner, The Undershirt Inc.
Earth Day is upon us once again. I remember first celebrating it when I was in middle school, when it was a "new concept." Today it has grown in magnitude and scope, from Earth-friendly events and celebrations, to full-blown lines of organic and eco-friendly products. Once hard to find, eco-friendly goods are now everywhere. Organic apparel costs a premium in today's marketplace. "Why so?" you may ask. Cultivating organic cotton requires more hand labor: weeding and cultivating, instead of using insecticides and pesticides; utilizing "good" insects, like lady bugs and preying mantises to eat the cotton pests; using manure and natural compost instead of chemical fertilizer. Cover crops are grown to choke out weeds, and crop-rotation methods are also used to regenerate the land. When cotton crops are done, they are allowed to die naturally, instead of being killed off with defoliants. Once cotton is picked, it is taken to the cotton gin. The machinery needs to be scrupulously cleaned from other non-organic cottons, which leave behind residue in the machinery. Federal law requires this. By producing crops in this way, the environment is cleaner, as there is no pesticide drift from chemical spraying, to be ingested by people or animals in the area. In a pesticide-laden field, insects are exposed to the pesticides; birds eat the infected insects, or make nests in the pesticide-laden grass. These "edge species" are then hunted by man, and ingested by humans in the food chain. Cottonseed is used in food preparation as well, and the insecticides and pesticides are not removed in the ginning process, which allows them to remain in the cottonseed ingested by humans. That being said, many are seeking out organic products to eat and to wear. Organic T-shirts are extremely popular. Grown in pesticide-free environments, they are soft and usually available in softer-hue palettes, reflecting the sky/earth colors and nature's shades of green. Bamboo is one of the newer sustainable fabrics, creating a silky-to-the-touch feel against the body. With the eco-conscious public looking for alternatives to plastic/paper grocery bags in the marketplace, the popularity of reuseable market bags has exploded. Not only reuseable, which is eco-friendly in itself, these bags now come in organic cotton and canvas and are also available made from recycled plastic water bottles. Surprisingly, even jackets are being made out of those same water bottles! When making your next apparel or promotional item purchase, stop and consider eco-friendly or organic products– they say you care. Sustainable = Responsible.

The Signal Hill Tribune celebrates with Shari Blackwell, owner of The Undershirt Inc. 30 years in business.
Read Here - (PDF Format) or Online
The Undershirt's Open House at their new location.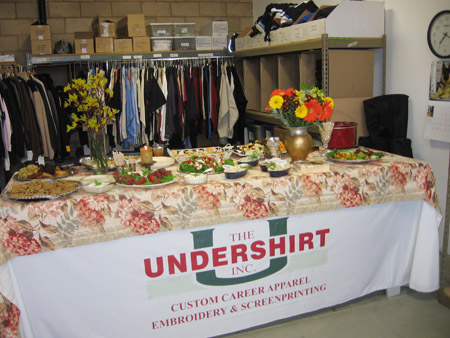 The Long Beach Business Journal celebrates with Shari Blackwell, owner of The Undershirt Inc. 30 years in business - Read Here - (PDF Format)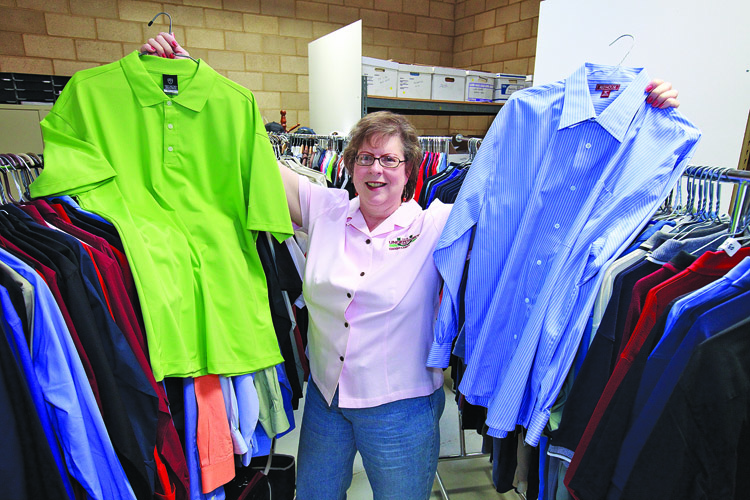 Recently Featured in the Gazette for assisting with the Teddy Bear Drive That Kicked Off Child Abuse Awareness Month- Read Here - (PDF Format)
Featured in the Signal Tribune for supplying environmentally friendly attire- Read Here - (PDF Format)
Featured in the Long Beach Business Journal - Read Here
Article in the Signal Tribune Newspaper - Read here - (PDF Format)
"We would like to thank you for the excellent job and selection of shirts that were presented to employees for Viam Mfg., Inc 20th anniversary. We look forward to continued success and seeing you at the next celebration. Thank you again!"
President Yasuhiro Matsui
Viam Manufacturing Inc
Professional & friendly service was what the Chamber experienced when purchasing the Shirts for the 2004 Signal Hill Chamber Golf Tournament. Shari is a pleasure to work with and we highly recommend her services!

Signal Hill Chamber of Commerce
562-424-6489

info@SignalHillChamber.com
"Thank you for providing a great business experience. My order for flags, hats and shirts was handled professionally and speedily. On top of that, add your great personality! Looking forward to next encounter."

President John Thomas
JLT Associates LLC